What is this youth bus?
The Youth Bus is a mobile youth provision, it is a new additional service provided by the Youth Development Service and will enhance the current youth offer provided through the existing five youth centres and detached youth work.
It will enable the Outreach & Detached youth team, to reach out to more young people through deploying the bus to areas of needs and areas where there is limited youth provision.  We recognise that not all young people may choose to come to one of our five youth centres and therefore it is important to bring youth provision to young people to their local communities.
Who is it for?
The Youth Bus will provide activities aimed at young people aged between 11 and 19 or up to 25 with additional needs.
What activities will it provide?
The youth bus is a new vehicle equipped with  state-of-the-art technology such as digital music, access to iPad/tablets, game consoles and free WIFI.  Through the mobile youth provision young people will have access to information, advice and guidance, free activities, advocacy, and early help support on their doorstep.  The mobile youth provision will have the capacity to deliver bespoke workshops, harm reduction campaigns and activities such as, job ready interviews sessions and job searching.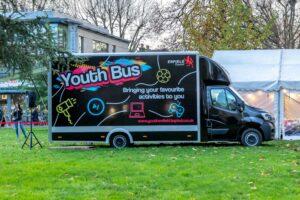 We aim to engage with young people through programmes of personal and social education, which help them gain knowledge and recognise new opportunities in the world around them.  The Youth Workers / professionals onboard will build effective and meaningful relationships with young people through regular contact, mutual trust, respect and understanding. The Youth workers will identify and respond to the needs and agendas of individuals and groups of young people by developing appropriate strategies for action which are both educational and fun.
Youth Workers on the Youth bus will support and challenge young people's attitudes and action towards issues such as unemployment, drugs, poverty, racism, sexism, disability, health, sexuality, criminality, peer, parental and community pressure. Youth Workers will enable young people to take more control over their lives and create experiences with them which enable them to make informed choices.
We will work with a number of partners such as public health, voluntary and community groups, together we will be a friendly source of information about well-being and prevention approaches in connection with social proscribing.
The Youth Services and local youth offer make a significant contribution to the safeguarding of vulnerable adolescents through the provision of early help and intervention, preventing safeguarding concerns emerging in the first instance and preventing their escalation into statutory services.  The Youth bus will be plugged into Safer Schools programme and could be used to be deployed to school to assist with safer schools' campaigns.
Where will it be?
The Youth bus will engage young people in the most socially deprived wards where there is no youth provision and will have capacity and flexibility to be deployed in areas of existing or emergent needs. Our project will have capacity to be deployed to areas of needs such as in the east of the Borough. The Youth bus will be in places where young people are, this can be a park, an estate, town centre, bus station or an open space where young people socialise.
Current Timetable:
| Day | Time | Location |
| --- | --- | --- |
| Monday | 3.30pm – 5.30pm | Joyce Avenue & Snell's Park Estate, Upper Edmonton Ward |
| Thursday | 3.30pm –  5.30pm | Ayley Croft Estate,  Bush Hill Park Ward |
| Friday | 3.30pm – 5.30pm | Klinger Estate,  Haselbury Ward |
Booking Request
If there is a particular area or event you feel would benefit from having the Youth Bus present, please complete the booking request form, and a member of our team will contact you to discuss this further. Please note booking requests will be assessed on whether the need fits our service aims and delivery schedule.
If you have any general enquiries about the Youth Bus please email: youthenfield@enfield.gov.uk