IGNITE AWARDS are BACK for 2023!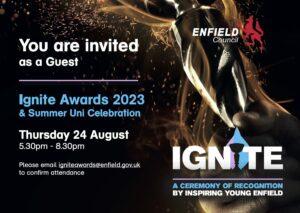 The Ignite Awards has been created by the Inspiring Young Leaders to recognise the achievements of young people who live or go to school in Enfield; and has received support from the Leader of the Council and the Dept Mayor of London.
There are 11 categories, young people can be nominated for (see attached nomination booklet) and nominations are open to all young people aged from 11 to 19 and up to 25 with disabilities, who attend, school, college, or who live in the London Borough of Enfield. Please note, each nomination pack is restricted to 2 nominations per nominator.
All young people who are nominated will be recognised at the  "Ignite Awards" on Thursday 24th August 2023 from 5.30pm – 8.30pm,  taking place at Cineworld Cinema Southbury Leisure Centre.
This is going to be a fantastic evening of celebrating the many achievements of young people, across the borough.
We hope that your school can take part in the nominations.
Please can you cascade this information to your team.
 The Deadline to submit nominations is Sunday 18th June 2023 and are to be emailed to Igniteawards@enfield.gov.uk