Goal 2: Build up long lasting, positive and supportive relationships
Experiencing ups and downs is part of life. It is important that you develop a strong network of support that can be depended upon during tough times but also celebrates with you YOUR SUCCESSES. Research has proven that having a support system in place has many positive benefits, such as higher levels of well-being, better coping skills and a longer and healthier life. Some people do best with a large support group, while others need a small support system. Giving and receiving support from others is a basic human need. Enfield Care Leavers Service can help you to maintain or resume contact with people who are special to you. Your Social Worker or Personal Advisor will be happy to talk with you about your family, your friendships and other professional relationships that can be part of your network of support.
KEEPING IN TOUCH UNTIL YOUR 25TH BIRTHDAY
Our aim is that by the time you reach your 21st birthday you are ready to live a successful independent life. However, we acknowledge that each young person is different and may reach that point at a different age. We will ensure that we remain in touch and provide you with information, advice and support up to your 25th birthday if this is what you want.
In the case we agree that our active involvement and support can come to an end we would still love to hear from you and find out how life is going. As a minimum, we will attempt yearly contact to check on your circumstances and discuss whether you require any support from us.
ENFIELD CARE LEAVERS HUB 16-25
Enfield Care Leavers Service is committed to providing all its care leavers with a central space for you to relax, get advice, guidance and support. The Hub aims to provide care leavers with a wide range of support services in regards to housing, welfare benefits, health and wellbeing, EET, information and advice as well as engagement with youth and local services.
It provides a welcoming space where you can have formal meetings with your Social Worker or Personal Advisor, meet other professionals as well as take part in various activities and workshops.
You can find out HERE more information on the current activities and services available through your HUB.
The purpose of the Hub is to support YOU in achieving YOUR ambitions and aspirations.
KRATOS (Children in Care Council) 16-25
WE ARE REALLY PROUD IN ENFIELD OF OUR CHILDREN IN CARE COUNCIL AKA KRATOS.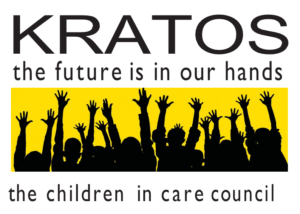 KRATOS means "Power, Strength". KRATOS is much more than the Children is Care Council.KRATOS' Members, whose ages range from 14 to 23 years of age, meet twice a month and are supported by a Participation and Consultation Officer who is an integrated part of the Virtual School.
Many of the members of the Children in Care Council have found belonging to this group an excellent way to make lasting friendships which have supported them long after they have left care.
As a member you can:
Become a young advisor/peer mentor for children and young people
Build new friendships
Take part in fun and positive activities
Make positive changes in how we work with young people in the Leaving Care Team
Inspect children's services
Assist in the recruitment and training of new social workers and foster carers
Access training on relevant areas like Subs misuse, Wellbeing, County Lines or Exploitation.
ENFIELD YOUTH SERVICE (16-19 and 16-25)
Enfield Youth Development Service works with young people aged between 11 and 19 years (and up to 25 for young people with additional needs), to promote your personal and social development and enable you to have a voice, influence change and place in their communities and society as a whole. They work with young people to build your resilience, character and give you the confidence and life skills you need to live, learn, work and achieve. This is at the heart of all their work. The relationship between young people and youth worker is entirely voluntary, where you will always have a choice to engage.
If you are interested in getting involved with Enfield Youth Service speak to your Social Worker/Personal Advisor or alternatively you can contact Talisha or Yemi 020 8132 2783 / 020 8132 0656 or email: youthenfield@enfield.gov.uk More information of the activities on offer through Enfield Youth Service can be accessed HERE.
YOUNG PARENTS (16-25)
If you or your partner become pregnant, your allocated Social Worker or Personal Advisor within the Leaving Care Team will support you through the completion of a pre-birth assessment if this is required. This assessment looks at your circumstances and the support you and your child may need to have in place to best care for your baby. Depending on the outcome of the assessment this may result in either no further action, a referral to local services for young children i.e. your local Children's Centre or, if applicable, a referral to the Child Protection and Family Support Team if further involvement from a Social Worker is deemed necessary. We want children and families to thrive and be resilient. Our aim is that all children and young people in Enfield live in families where they are safe, confident and happy and have the opportunity to achieve their full potential and strengthen their community.
NEW BEGINNINGS PROJECT (16-25)
New Beginnings is a support service that is run by the London Borough of Enfield for young women living within the Borough. It supports women who unfortunately have experienced their children being permanently removed from their care as well as those who are at risk of further pregnancies that may result in additional care proceedings. As part of the Project you will receive one-to-one support in order to develop and enhance personal goals, confidence, wellbeing and parenting capacity. The aim of the New Beginnings service is to ensure you will be able to safely care for any children you have in the future. Referrals can be made by your Social Worker/Personal Advisor or through self-referral by emailing: NewBeginnings@enfield.gov.uk or calling 020 8379 8211.
ADOPTION NORTH LONDON SERVICE
If you were adopted and you are 18 years old or over, by law, you have now certain rights you need to be aware of such as accessing your birth and adoption records, access letterbox contact/ Information exchange from birth parents or other birth relatives or access support from the Adoption Service in contacting/refusing contact with your birth family. If you would like to consider all the options and their implications, you are very welcome to contact the regional Adoption Agency (AKA Adopt LondonNorth. In fact, they would welcome hearing from you if you would like to talk over anything to do with your adoption. They can be contacted on 0207 527 4777 or by email at adoptionsupoprtduty@islington.gov.uk
Adoption North London has a support group for adopted adults, which meets bi-monthly in Islington. It is run by adopted adults with some support from the adoption support teams.
ENFIELD DOMESTIC ABUSE HUB AND FREE-PHONE 0800 923 9009
The Domestic abuse Hub will provide a multi-agency response to anyone fleeing domestic abuse. There will be a dedicated free telephone number and a specialist team to ensure no one is turned away and support is there for anyone in need. Both the Hub and the Helpline are operational 9am – 5pm Monday to Friday. Always dial 999 if an ambulance or Police are required.
In a relationship, violence, threats and controlling behaviour are all signs of domestic abuse. Don't be afraid to call them for help and support. Domestic abuse is a crime.
They also have a dedicated domestic abuse page on Enfield's website where you can find out more about the helpline and other issues relating to domestic abuse www.enfield.gov.uk/dv as well as a  dedicated email platform as another channel for victims of abuse (or friends / family) to access help and support: callusDAH@enfield.gov.uk
| GOAL 2 Build up long lasting, positive and supportive relationships | Contact Details |
| --- | --- |
| ACTION FOR CHILDREN offers the Independent Visitors which is a befriending service for young people in care which will spend time with you and encourage you with your interests. | You can access this Service by asking your Social Worker or calling them on 020 7254 9408 www.actionforchildren.org.uk |
| BECOME: Do you have a goal you'd like to work on, or a problem you'd like to resolve? Become's life coaches could help you to take control over your life and make changes that are important to you. | Tel: 0800 023 2033 between 10:30am and 3pm, Monday to Friday, or email: advice@becomecharity.org.uk |
| MOSAIC LGBTQ Youth Centre focuses on supporting, educating and inspiring you as an LGBT person. As LGBT people, we get that sometimes you may face challenges, difficulties or encounter experiences that are unique to us. | Tel: 0800 161 5428/07550 124 393 Email: info@mosaicyouth.org.uk www.mosaicyouth.org.uk |
| ENFIELD CHILDREN'S CENTRES provide opportunities for families with children under 5, to learn, develop and have fun. It is a place for families to attend free courses, workshops and drop in sessions. The Children's Centre brings together a wide range of services and support for families with young children as part of Enfield's Early Help Family Hub. | https://www.ccenfield.org |
| SERVICES FIGHTING EXPLOITATION AND ABUSE | Contact Details |
| --- | --- |
| ABIANDA offers one-to-one, group work and employment opportunities to gang-affected young women. And for professionals they offer training and support to work more confidently and effectively with gang-affected young women. | http://abianda.com/services/ |
| STAR PROJECT Specialist 12-session one-to-one service for gang-affected young women aged 16-24. | Tel: 020 768 60520 |
| BROOK is a Helpline providing free, confidential sexual health advice and contraception for young people, up to age 25. | Tel: 0800 0185 023 www.brook.org.uk |
| ECPAT UK's award-winning youth programme for trafficked young people is now accepting new members. The programme is open to young people living in London who may have been exploited or who have been formally recognised as a victim of trafficking. Referrals into our youth programme must be made by a frontline professional working with the young person. | www.youth@ecpat.org.uk |
| SAFER LONDON believe every young person should be given the opportunity to live free from exposure to gangs, exploitation and crime. | https://saferlondon.org.uk |
| FEARLESS is a site where you can access non- judgemental information and advice about crime and criminality. What makes this site different is they provide a safe place to give information about crime - 100% anonymously. | https://www.fearless.org/en |
| RAPE AND SEXUAL ABUSE SUPPORT CENTRE Support by telephone and post, counselling for women and girls, also a referral service for boys and men. | Tel: 020 8683 3300 www.rasasc.org.uk |
| SOLACE If you are worried about your safety, suffer abuse from your partner or you are concerned that you or a friend may be in danger, you can speak to someone on Solace's Advice Line. | Call 0808 802 5565 or follow this link solacewomensaid.org to get help. If you are in immediate danger always call the police on 999 |
| NATIONAL DOMESTIC ABUSE HELPLINE | 0808 2000 247 |
| CLAIRE's LAW gives you a 'right to ask' police if you are concerned that: • your partner may pose a risk to you • the partner of a member of your family or a friend may pose a risk to that individual If the police and partner agencies find that the partner has a record of abusive offences, or there is other information to indicate that there may be a risk from the partner, they will consider sharing this information with you. | The Metropolitan Police have more information, including guidance on what to do if you are concerned. Email: YE-CSUEnfield@met.pnn.police.uk Twitter: @MPSEnfield |
| REFUGE offers accommodation and support to women and children escaping domestic violence | Tel: 0808 200 0247 https://refuge.org.uk/ |